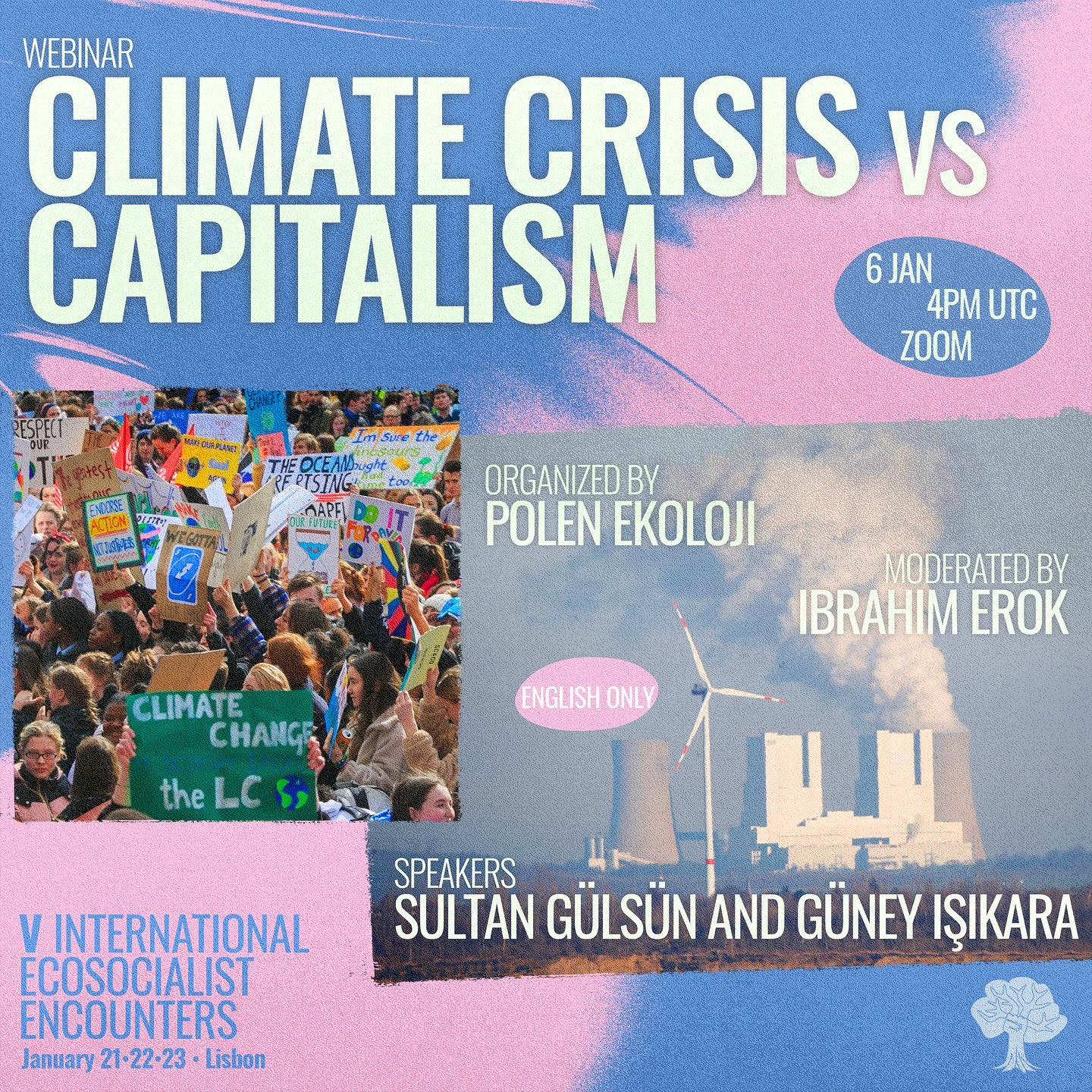 Organized by: Polen Ekoloji
Moderator: Ibrahim Erok
Speakers: Sultan Gülsün and Güney Işıkara
Zoom registration link: https://us02web.zoom.us/meeting/register/tZMpc-GgqzwiH9OM7U2hD0kAH7KkF541PWz8
Language: English only
Description:
Contrast between capitalism and ecosocialism in the context of ecological and social crisis:
The commodification of nature, unlimited accumulation of capital, exploitation of labor, and nature accompanying competition undermine the foundations of a sustainable future. Thus, it puts the earth's ecosystem on which all living things interact at risk. The deep and systemic threat we face demands a systemic change. Ecosocialism offers a radical alternative that prioritizes social and ecological well-being. Reaching the connections between the exploitation of labor and the exploitation of nature, this idea opposes reformist market-based solutions because the capitalist production system that feeds on profit maximization is incompatible with societal equality and sustainability of nature.
Ecosocialism discussions from degrowth perspective:
Questioning capitalist growth is vital today to expose its destructive character as well as the fact that it comes at the expense of working people's living standards. Moreover, a planned and coordinated degrowth of energy consumption (and output) in advanced countries in the short- to medium-run is necessary at least to avoid runaway climate change.
However, its corollary is not degrowth, but turning the issues of "growth/degrowth of what?", "at what cost?", "under which circumstances?" into political questions. The sublation of the economic and the political is implied in the self-governance of the working people. This does not require institutionalizing degrowth, which can become as socially blind as capitalist growth.